Houghton's Streetscape Project Wins National Award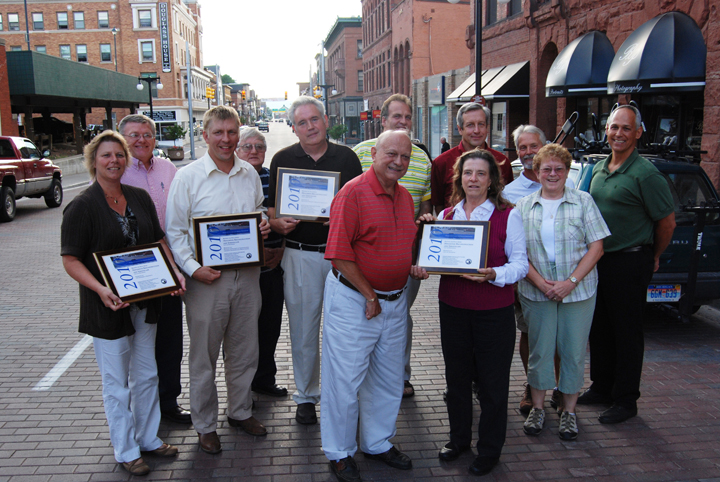 From the left: Nancy Roberts, P.E., U.P. Engineers & Architects; Andy Sikkema, manager of MDOT's Ishpeming Transportation Service Center; Al Anderson, MDOT; Lee Hauswirth, Houghton Councilman; Robert Megowen, Houghton Councilman/Downtown Houghton Merchants' Association; Robert Backon, Mayor; Gernot Joachim, Houghton Councilman; Commissioner Linda Miller Atkinson, MDOT; Scott MacInnes, Houghton City Manager; Craig Kurtz, Houghton Councilman; Rachel Lankton, Houghton Councilwoman; and Eric Peterson, Houghton Councilman.
By GARRETT NEESE, DMG Writer

HOUGHTON - Houghton's Shelden Avenue reconstruction and streetscape project has already won recognition at the state level. Now it's gone national.
The National Partner for Highway Quality gave the Michigan Department of Transportation a gold award for the project, one of three the state won this year.
It was granted in the Breaking the Mold category, given to innovative projects.
MDOT's Ishpeming Transportation Service Center, the City of Houghton, Bacco Construction, U.P. Engineers & Architects and the Downtown Houghton Merchants' Association collaborated.
The work, done in a unique structure of two-block segments, was finished a week early.
"It was really a tremendous partnership to be involved with, and everyone involved did a fantastic job of making the project work," said Rob Servo, development engineer with MDOT in Ishpeming. "We had expected perhaps it would be a problematic project because it was such a busy downtown ... everyone shared those fears and sat down and said 'How are we going to get this project done and still keep business going?'"
Those solutions included bringing people to the downtown through a series of events such as street concerts, temporary sidewalks allowing access to the businesses and school field trips to the construction site.
Servo said the amount of collaboration with the city, the downtown merchants and the contractors was key to making the project work.
"It was really just a fun project to be a part of, and I wish we could have more like it," he said.
The awards are issued at gold, silver and bronze levels in even-numbered years.
Michigan also won two other gold awards. One was for the Partnering category for the planning, design and construction of the Farm Lane underpasses on the Michigan State University campus in Lansing, while Michigan's Construction Quality Partnership won the other for the Workforce Training Category.
"We are pleased with this recognition, but we can't afford to rest on our laurels," State Transportation Director Kirk T. Steudle said in a release. "Everyone in the road construction industry in Michigan has an obligation to maintain and advance Michigan's high performance. Continuous improvement in our quality initiatives, and in every phase of the construction process, must be our goal."
Garrett Neese can be reached at gneese @mininggazette.com.